Through our global network of manufacturing facilities, supported by our engineering and design professionals, DESCO offers products, technologies and solutions to meet our customer's heat transfer and other industrial process needs.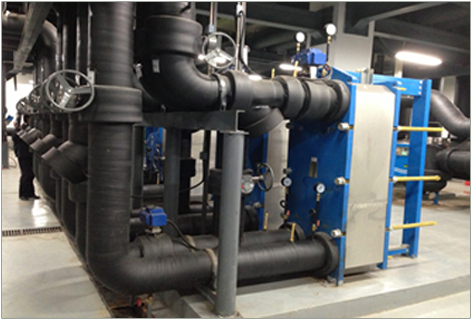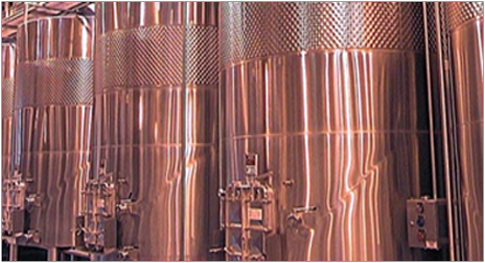 DESCO offers a variety of specialty "plate" heat exchangers that offer a more efficient and cost effective solution, in a compact footprint, than traditional heat transfer equipment. DESCO also provides Engineered-to-Order equipment providing heat transfer solutions for air conditioning and refrigeration applications with our "air side" cooling technologies.



The complete line of DESCO heat exchangers are a combination of gasketed, semi-welded, completely welded and brazed units. Our application engineering experts can select the proper heat exchanger to meet the pressure, temperature, fluid and flow process parameters of a given application.
These exchangers are capable of producing turbulent flows at low velocities resulting in higher heat transfer efficiency. Most of these designs provide for large surface areas in a compact foot print using compressed "plate packs", allowing two fluids to interact without mixing.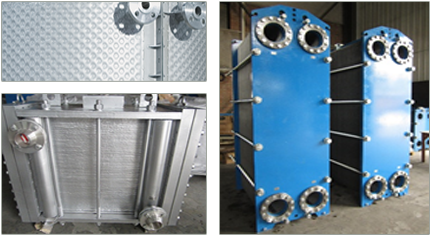 The versatile and efficient DESCO-COILTM prime surface plate heat exchanger provides uniform thermal control for a multitude of duties and configurations to include, but not limited to, the following:
• Immersion heating and cooling (bank-in-a-tank)
• Integral jacketing for vessels and storage tanks
• Clamp-on jacketing for vessels and storage tanks
• Fluidized bed heating
• Heat recovery and other banks
• Suction and bayonet heaters
• Storage tank heaters
• Falling film evaporators

DESCO-COILTM with its variable pass configurations creates optimum turbulence resulting in excellent heat transfer properties. The design provides for maximum wetted surfaces and minimizes "dead" spots.
DESCO-COILTM consists of two (2) metal sheets, of equal or unequal thickness, which will eventually form the heat transfer panels. These are completely seal-welded together along the perimeter and spot-welded intermittently across the entire heat transfer surface using an automatic state of the art laser welder. The position and number of welds are computer designed, based on the flow, operating pressure and allowable pressure drop of the fluid flowing through the coils. The coils are then hydrostatically or pneumatically inflated, to the required dimensions.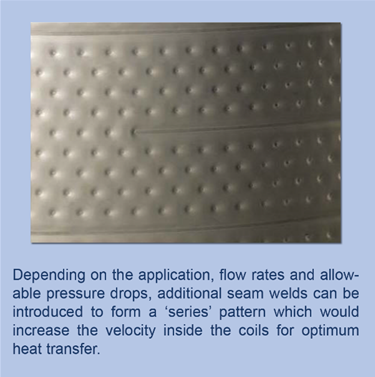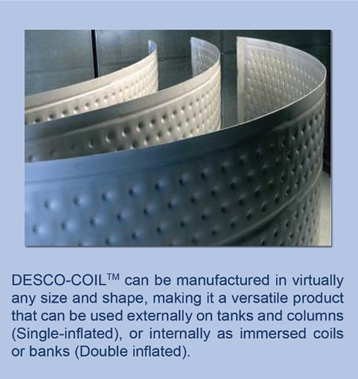 Banks of DESCO-COILTM , or DESCO-BANKTM , are used for heat recovery, fluidized beds, falling film heat exchangers and as evaporators with various refrigerants combining high efficiency, light weight, ease of cleaning and a minimum of joints.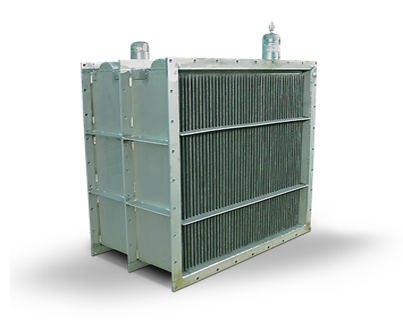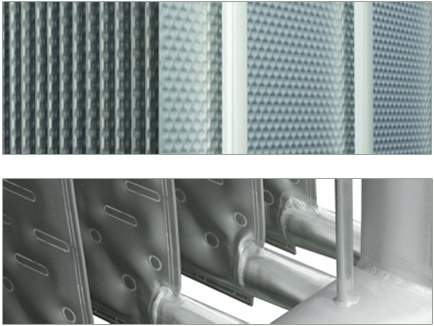 DESCO gasketed plate and frame heat exchangers (GPHE's) are offered with a multitude of plate sizes, configurations and flow distribution patterns designed to meet our customer's specific heat transfer requirements. Our plate heat exchangers provide superior efficiency while transferring heat from one liquid to another or from steam to liquid.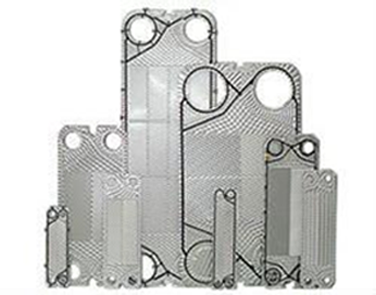 We can provide GPFE's with our own plate configurations and designs or provide units with many of the plate designs already available in market today, allowing us to meet a customer's specific needs or replace existing units.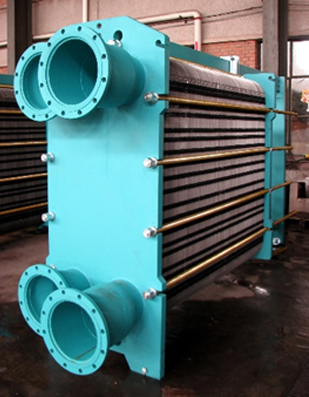 The primary component of DESCO GPHE's is the heat transfer plates formed from thin sheets of corrosion resistant metal, primarily stainless steel or titanium. These sheets are press formed into the required corrugated or embossed pattern. The plates are compressed and sealed with a selected synthetic rubber between a fixed and movable frame. The plates are suspended, supported and aligned using upper and lower guide bars. The plates are compressed using tightening bolts and nuts. In this design, plates can be added or removed as the heat duty dictates.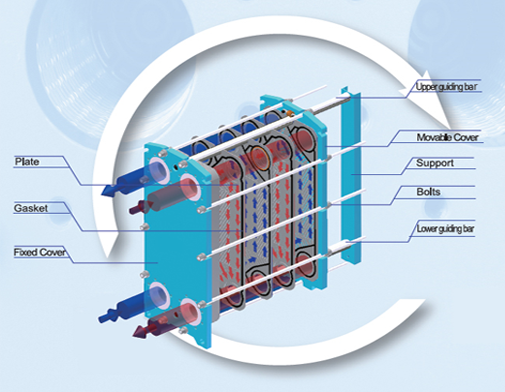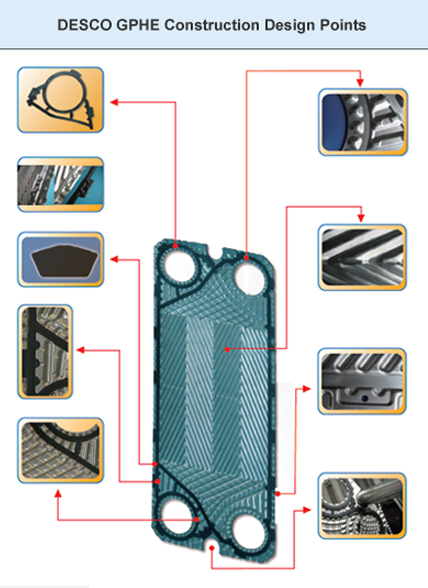 The pattern on the plates when sealed form channels for the hot and cold fluids to flow. The fluids flow counter currently providing for optimum heat transfer efficiency. DESCO GPHE's can handle very close approach temperatures and are capable of providing an over-all heat transfer co-efficient (U-value) significantly better than traditional heat exchangers. This is due to the units high turbulent flow resulting from the corrugated patterns of our plates.
DESCO GPHE's can meet a wide range of heat transfer application requirements using precise plate selections from an array of high and low NTU plate configurations. Among the variables we take into account, when considering an optimum selection for our customers are flow rate, design pressure, pressure drop, material compatibility and the specified heat transfer duty.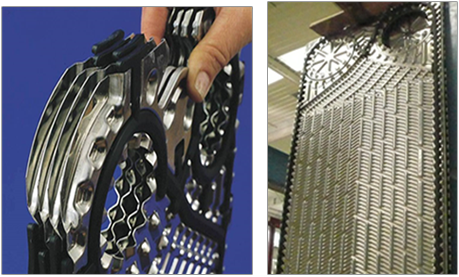 There are many advantages to our GPHE's. They can be easily opened for inspection and maintenance. Also, the lightweight and compact footprint saves installation space and disassembly space when compared to a traditional shell & tube exchanger. The GPHE's can be easily cleaned within the footprint of the unit and without tube cleaning.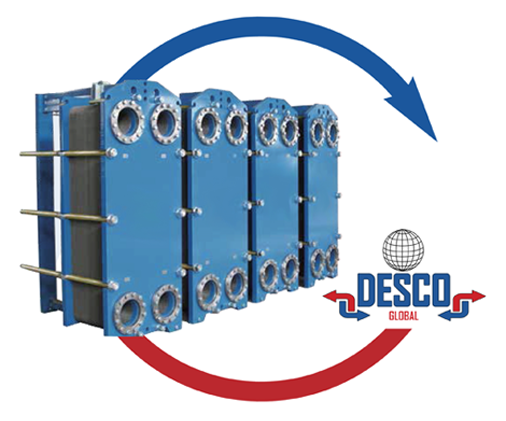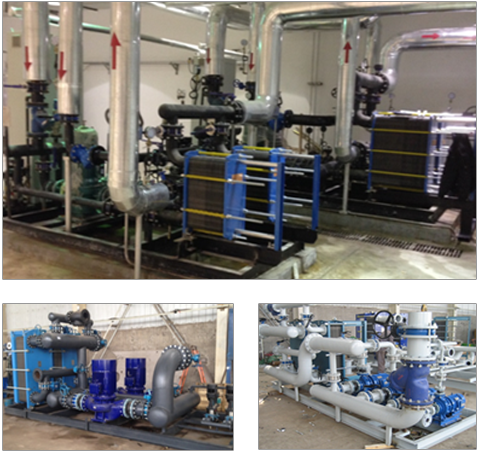 With DESCO's vast experience in heat transfer and design engineering, we are capable of putting together small heat exchanger packages or "skids" complete ancillary piping, valves, pumps and controllers.




DESCO's semi-welded plate & frame heat exchangers follow the basic high efficiency design concept of the GPHE, but with one major deviation in the plate sealing method. Two (2) plates are laser welded into a cassette with an O-ring gasket at the port holes between the plates.
Primarily used for cooling, the welded channel is used for refrigerant with the process fluid flowing on the gasketed side.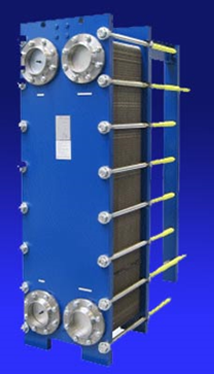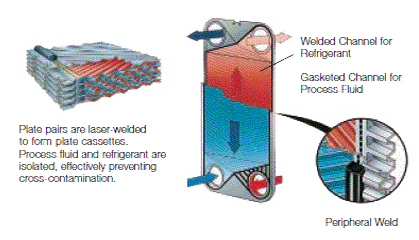 This heat exchanger, because of the welded cassettes, can be used for higher pressure applications than the traditional GPHE. Also, fluids that are not compatible with tradition GPHE gasket material can be used on the welded cassette side because it is isolated. With the same advantages of GPHEs, semi-welded units can add plates to increase capacity and be disassembled/assembled easily to perform needed maintenance.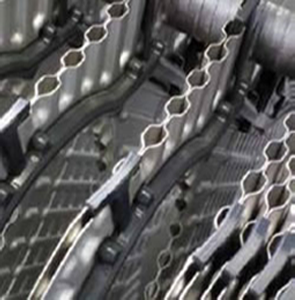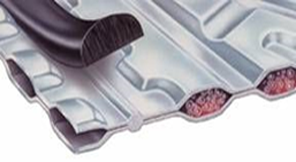 DESCO has combined its plate heat exchanger expertise with traditional shell and tube heat exchanger technologies to further develop and refine the shell and plate welded heat exchanger. We design and supply this technology to the markets we serve to provide a solution for our customer's high temperature and high pressure heat transfer needs.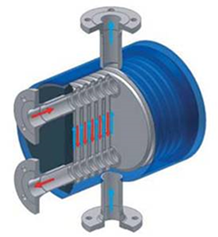 This heat exchanger contains a fully welded circular plate pack consisting of round plates pressed with specific embossed patterns and then completely welded together. Fluid is carried in and out of the plate pack through nozzles and is referred to as the "plate side" flow path. The plate pack is installed into an outer shell that creates the other flow path known as the "shell side" flow path.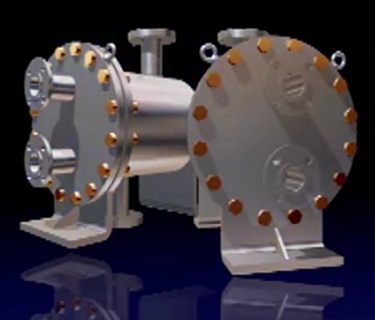 This heat exchanger has no plate gaskets providing the best protection against cross leaking. The welded shell and plate technology offer high heat transfer performance in high pressure and temperature environments while providing compact size, low fouling and close approach temperatures.
DESCO can also provide the shell and plate welded heat exchanger in an openable version. This allows the flexibility to completely remove the plate pack for inspection or cleaning. A flange and bolted shell construction is used to achieve this quick and easy removal and re-installation of the cassette plate pack. Process down time is kept to a minimum.
DESCO's shell and plate welded heat exchanger bridges the performance and price gap between traditional shell and tube heat exchangers and the more thermally efficient gasketed plate heat exchangers.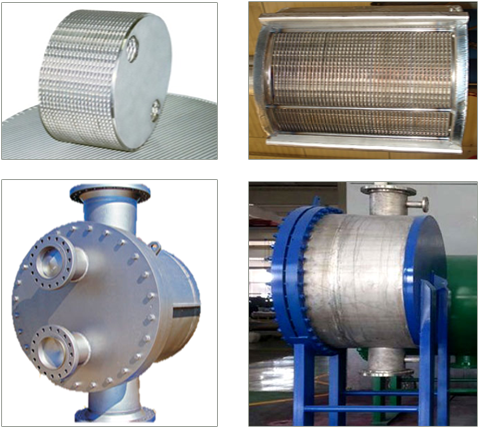 As part of our plate heat exchanger technologies, DESCO offers a selection of Brazed Plate Heat Exchangers (BHE). These heat exchangers retain the cost effective and performance traits of our GPHEs while providing even greater weight advantages, compactness, durability and economy by utilizing brazed construction. This makes it extremely effective in refrigeration applications.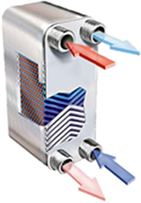 This technology provides counter current flow with higher heat transfer coefficients resulting in smaller heat transfer area. The brazed construction allows thinner material to be used making the BHE more compact and lighter the most heat exchangers. Brazing provides for excellent heat resistance and pressure durability. Since there is a minimum of component parts and the units are produced at high volumes, the units are very cost effective.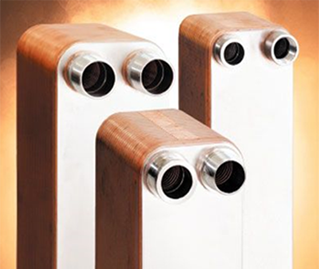 The BHE is a simple unit consisting of heat transfer plates and two (2) end frame plates for reinforcement with inlet/outlet connections. Compared to other welding methods, the low brazing temperature and workability mean that the process can bond the thin plates and parts with the required precision. Because the filler metal penetrates into gaps, brazing can bond these complex plate shapes with multipoint bonds. The brazing process results in bonds with a strength equal to or higher then the base metal, providing a durable heat exchanger.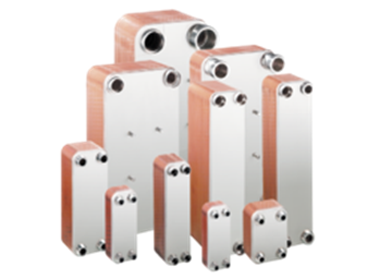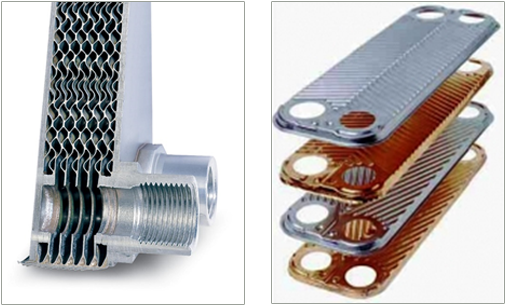 Brazed compact plate heat exchangers have proved indispensable in the refrigeration, hot water supply and air conditioning industries. They are applied specifically for cooling of purified water, oil cooling and water heating




DESCO has developed the DESCO-HELIXTM, a spiral plate heat exchanger, for heating, cooling, heat recovery and condensing applications in various industries, especially the pharmaceutical, paper, food, petrochemicals and steel industries.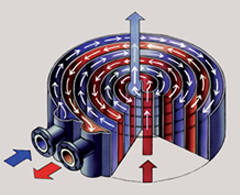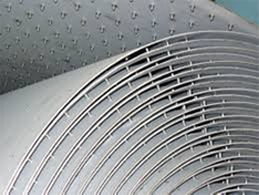 The design consists of two (2) strips of metal, separated by spacer studs wound around a core, creating two (2) flow passages. The cross-section of the flow passages are controlled by the stud height and the width of the strip.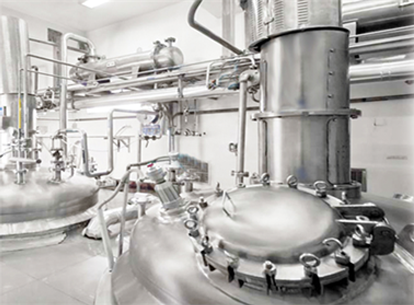 The relatively large flow channels yield low pressure drops. However, the concentric nature of the flow passages, combined with interruptions by the spacer studs, yields turbulent flows even at low Reynolds numbers, increasing heat transfer and reducing fouling.
The units can operate in a cross or counter current flow pattern, and can handle viscous liquids, slurries and sludges with up to 45% suspended solids.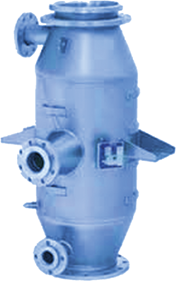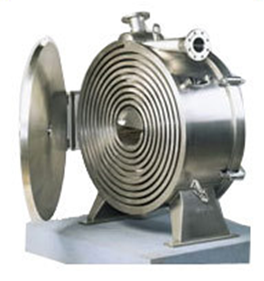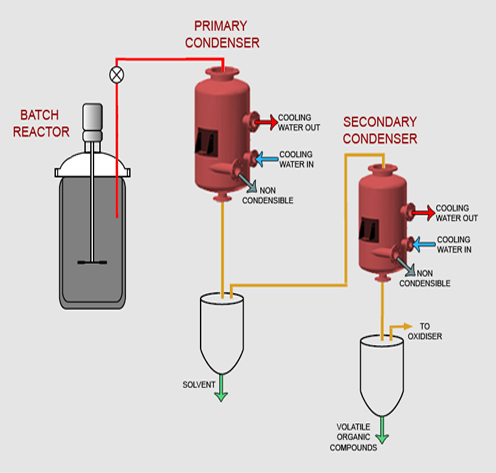 As a compliment to our specialty heat exchanges, DESCO provides modular cooling towers for optimal primary and supplemental cooling capacity in power and industrial plants. We also provide energy efficient axial flow FRP fans and associated components with proven field performance.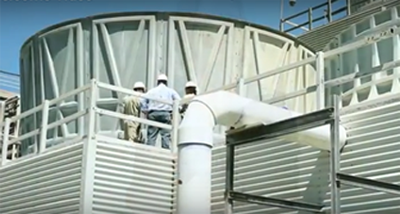 DESCO also offers a line of air cooled condensers, air coolers and evaporators used in various air conditioning and refrigeration system applications, both commercial and industrial. These are innovative, high quality and cost effective heat exchanger packages that take into account energy costs in their design and operation.




In addition to our plate heat exchangers, DESCO can offer a variety of modular cooling towers pre-assembled for HVAC and industrial applications. The units offer an efficient cross corrugated fill for clean and industrial water applications with axial fans and geared motors for reliable operation.
We can also furnish a proven industrial cooling tower designed to run without electric motors saving maintenance and the cost of powering the motors. The target markets are chemical plants, oil and gas refineries, power plants, paper mills and steel mills. This innovative cooling tower technology adds primary or supplementary cooling capacity without adding electricity and operating cost.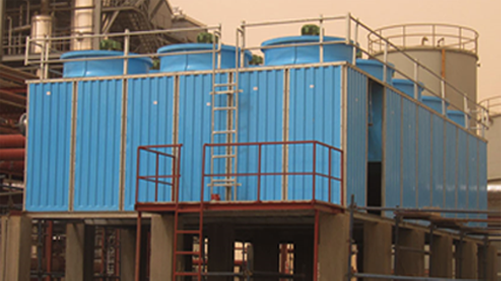 Evaporative cooling is the most sustainable and efficient process to make cold water for HVAC and industrial processes. When using an axial fan, it's high efficiency provides low energy consumption. In applications with no supplied electricity, the hydraulic pressure of the water supplied generates air flow and cools the water.




As a complement to the cooling towers, DESCO also offers a line of axial flow FRP fans. These fans incorporate the latest design and manufacturing process techniques to produce high efficiency fans and energy savings.
The fan blades are constructed from light weight and corrosion resistant fiber glass reinforced plastic (FRP) using polyester or epoxy resin. Because they are light weight, our fans ensure a low moment of inertia and minimum wear and stress on the motor, bearings and drive system. The fans incorporate a computer generated, unique and optimum, airfoil design.
These aerodynamically designed fan blades, constructed from composite material, can be an excellent alternative insuring enhanced efficiency with lower noise levels and less power consumption.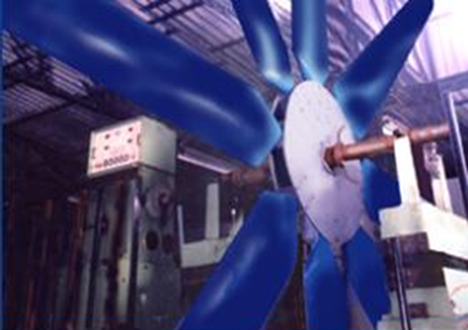 Augmenting our plate heat exchanger line, DESCO can also offer a series of air cooled condensers with axial fans used in air conditioning and refrigeration system applications. These units are available for use with all refrigerants including NH3 and CO2. Air flow direction can be horizontal or vertical.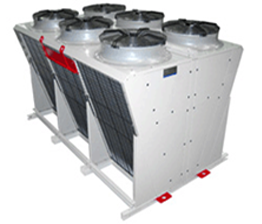 These condensers feature a compact design resulting in considerable space savings. The units have reliable coil construction based on a "sliding ring system" to allow for tube expansion. Our air cooled condensers are well engineered with a product range designed with cutting edge technology. They offer energy savings during operation, reducing installation costs and simplifying the design and selection process.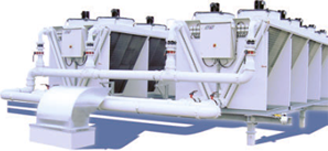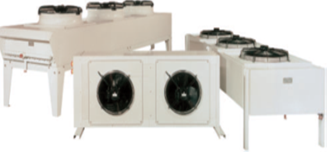 DESCO can also offer a series of evaporator/air coolers using coil technology suitable for industrial, large commercial and small commercial applications. The inline tube configuration is optimized for processing and long term storage of perishable goods as well as small room commercial refrigeration applications. These units are designed for use with all refrigerants to include glycol and brine. Air flow direction can be horizontal, vertical or inclined. These coolers feature longer cooling periods without defrost with more stable plant operation resulting in a saving of overall plant operation costs.